The Krystaline Ankh
Everything is energy. Each form or shape generates its own unique energy or frequency that is appropriate for use in certain applications.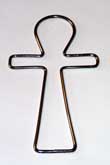 Types of Ankhs
We manufacture an Ankh which is made from brass wire, plated and finished with gold. It is approximately 7 inches in height.
Suggested Uses for the Ankh
Our understanding and experience with the Ankh is that it serves as a key to the opening of the heart. It can be held over the heart chakra during a meditation to enhance the opening of the heart. For a more powerful field,two ankhs can be used in conjunction. It is suggested that a person lie down with one ankh behind their heart chakra and the other ankh over their heart chakra while they medititate on the opening of the heart. Most people have a crust that has formed over their heart chakra due to experiences in life. This helps to break that crust.
The ankh can be used to help balance the masculine and the feminine energies within your body. Hold it between the palms of your hands, and feel it balancing these energies within you.
Many people choose to sleep with an ankh under their pillow. They report deeper sleep and enhanced dreams.
The form of the ankh is very effective at balancing earth ley lines. Two or four greatly balance and charge a room. Dowse for negative ley lines and place an ankh where the line enters the room and another one where the ley line leaves the room. Dowse for the height as well. If uncertain, four ankhs placed opposite each other on the four walls of the room will create a harmonized field. The wire ankhs are quite effective at balancing ley lines.
Three Part Healing Process
The ankh serves as a grounding post for the Beamer products. Its' specific shape sets up a resonant frequency that serves to enhance the flow of the Beamer products.

The ankh can be used in a three part healing system along with the Beamer products and the Neutralization Ring. This process can be used to treat your food and beverage, to enhance your supplements and other products, and for use in the bath and on the body. (see Beamer Applications and Neutralization Ring sheets for further explanation as to the use of these products) The complete process follows:
For Food, Beverage , Supplements & Other Products
The first part is to neutralize with the Neutralization Ring. ( Caution: do not use the ring with any products that are energetically based such as homeopathics because it will remove those energies as well as removing the negative energies.) The next step is to place the product, say your plate of food, on the Ankh. Then, the third step is to Beam the product ( in this case your plate of food) as you normally would while it remains on the ankh. The ankh serves as a grounding post for the Beamer and enhances the effect of the Beamer.

For the Body
The first step is to "neutralize" as you normally would. Hold the Ring between the palms of your hands for approximately one minute to clear the body's energy meridians of negative energy. If treating a specific area of stiffness or pain, place the Ring on this area for as long as feels appropriate.
The second step is to place the ankh. If you are doing a general meridian balance by beaming the tips of your fingers and toes, then sitting on the ankh, or placing one foot on the ankh will establish a ground.
The third step is to use the Beamer as you normally would.

If treating a specific part of your body, say your leg, place the ankh under the part of your leg you are treating, and then use the Beamer.

For A Bath
Place the neutralization ring in the tub while you are drawing the bath water. This clears the water. Then, remove the ring. Place a Beamer and the ankh in the bath water. The Beamer and the Ankh can be left in the bathtub for the duration of the bath.

Cost:
Egyptian Ankh ( 1/8" rod )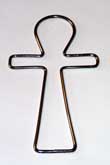 $ 30.00
Add to Cart