Tetrahedron
The tetrahedron is one of the five perfect Polyhedrons or Platonic Solids of sacred geometry on which molecular and cellular life is based. Its corresponding sound and color are the R key and orange, its element is fire. Its principal properties are to amplify inbound and outbound energy and to memorize and to diffuse an intention. Furthermore, it emits a wave form which channels the sky's energy towards the earth and enhances the 2nd chakra, seat of familial conscience. The key word for this form is: HUMILITY [one of the twelve aspects of dignity], an attitude without which power is used to dominate.

Carnelian incites to action, choice and to spontaneity. It increases vitality and affects fluidity and stimulates blood flow, the kidneys, the liver and the pancreas.
Size: 8 inch
Price: $59.00
Add To Cart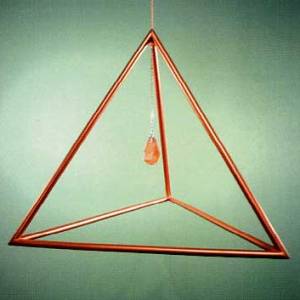 Size: 14 inch
Price: $99.00
Add To Cart
Here is a recent Testimonial: "I just want to say that I am HIGHLY impressed with the quality of the sacred geometry forms. They are absolutely beautiful! They exceed my expectations of quality and look more impressive in person than in the photos. I will definitely be ordering more in the future. I also love that they have a purpose and intention card attached along with a corresponding stone to each shape. It was well worth the wait. Thank you so much and please forward this message to David, he did a wonderful job. I also want to thank you and him for the great customer service. Namaste"