Full Line of Coconut Products
NOTE: These products are availabe in-store at ABLE CRYSTALS for pick-up only.
For a more complete description of these products and their uses visit: http://alphahealth.ca/
DME Virgin Coconut Oil
Alpha's Organic Virgin Coconut Oil is certified fair-trade and is hand-pressed directly from fresh coconuts in the Solomon Islands by island natives on their own family farms. The DME™ process uses a manually operated cold-pressing unit to produce raw oil from fresh coconuts in as little as one-and-a-half hours or less. Such a short processing time eliminates the concern of mold growth or danger of other impurities. This is one of the things that sets us apart from every other coconut oil on the market. For this reason, it has earned multiple organic certifications. Alpha DME™ delivers the purest, highest quality raw coconut oil to your table.
Available in 475 mL and 1.75 L glass jars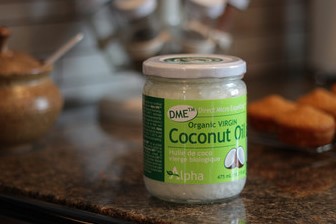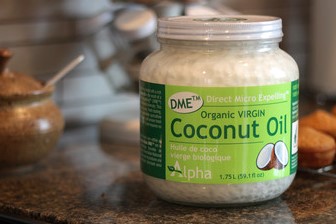 Supreme MCT Oil
MCT Oil is ready-made fuel for the body and the brain. It is an attractive supplement for those interested in weight loss and bodybuilding, and others who are looking to prevent and fight degenerative diseases such as Alzheimer's.

The reason for this is that medium chain triglycerides — such as the caprilic and capric acids which compose Alpha's Supreme MCT Oil — are easily metabolized in the liver and converted into energy. These fatty acids satisfy the body's need for good fats and nutrients without being stored as fat.

Alpha's Supreme MCT Oil is 100% pure, composed of 60% caprilic acid and 40% capric acid, in accordance with Dr. Newport's suggested formula.

Suggested use: As a dietary supplement, take 1 tablespoon (15 ml) 1 to 3 times daily. Alpha Supreme MCT-Oil can also be used as a substitute for conventional oils. It can be mixed with fruit juices, used on salads, in salad dressings, sauces or added to smoothies as a source of beneficial fatty acids. Not recommended for use in frying or high heat applications. One tablespoon of Alpha Supreme MCT-Oil provides 115 calories. Please note that MCT-Oil should be stored at room temperature and in its original container. It is good for 3 months after opening.
Available in 1 L